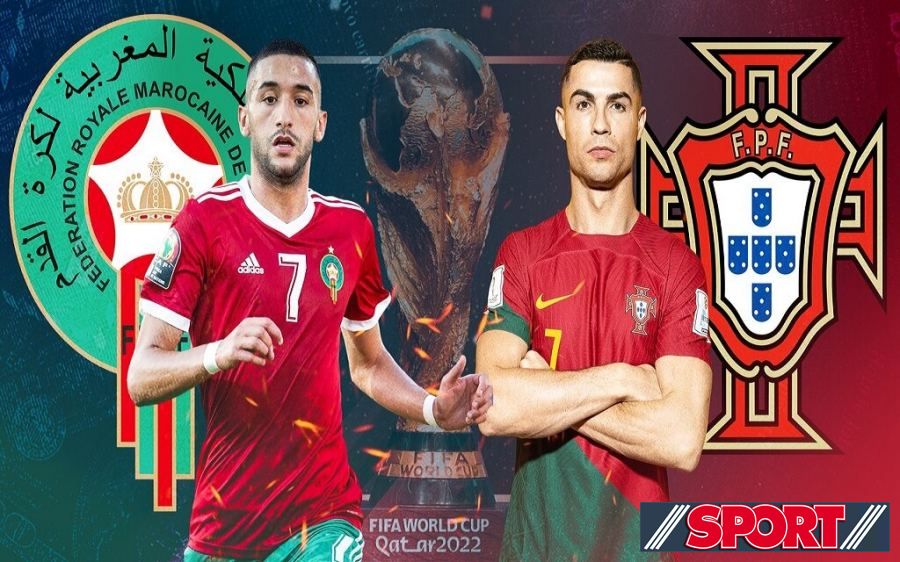 Match Today: Portugal vs Morocco 10-12-2022 World Cup 2022
Morocco and Portugal will meet in the quarter-finals of the 2022 World Cup. The match is scheduled to take place on Saturday, December 10th, at Al Thumama Stadium in Doha, starting at 15:00 GMT. To reach the quarter-finals, Morocco had to beat Spain on penalties after the match, having earlier defied the odds to top a group that included Croatia, Belgium and Canada. Morocco is well positioned as the tournament's giant killers. After the Atlas Lions team suffered from a struggle in Group F, in which the Croatian team, which reached the 2018 World Cup finals, and star-studded Belgium, as well as Canada, finished first after beating Belgium and Canada and drawing with Croatia. As if that wasn't great already, they drew Spain 0-0 before losing the former world champions 3-0 on penalties after the match. Morocco also comes into this match as the team with the strongest defense among the teams still in contention, having conceded only one goal so far, and this happens to be one of the biggest qualities that Portugal will have to deal with apart from being explosive. Attacking the wings that Morocco uses when it is on the counter.
Portugal vs Morocco
Morocco has three clean sheets in four matches in this tournament and has scored two goals in two of the four matches. Their victory over Spain marked their ninth unbeaten run, as they have recorded seven clean sheets and are now unbeaten in five World Cup matches. This will be the third meeting with Portugal in the World Cup and they have lost one and won one. In their meeting in Russia 2018, they lost 1-0 to Portugal thanks to a Cristiano Ronaldo goal early in the match. Portugal, which is seeking a second consecutive victory over Morocco, will realize the giant killing traits of this African country. They came here as the best scoring team of the remaining teams, and the 6-1 thrashing of Switzerland in their final game says it all about their quality in attack. While they only managed one clean sheet in their four matches in this competition, Portugal have scored two or more goals in three of their four matches, and as such three of their four matches have produced more than 2.5 goals. They scored in all four of their matches, but also conceded two goals in two of the four matches. Their emphatic victory over Switzerland was an impressive reaction to their 2-1 loss to South Korea in their final group match, and after seven wins in their last 10 matches, Portugal will be confident of surmounting the Moroccan challenge.
Morocco vs Portugal
Morocco coach Walid Regragui will have some concerns in his selection for this match after the big win over Spain. Romain Saïss appeared to be experiencing hamstring discomfort in the match against Spain and had to be checked, although he continued to play. The team wouldn't want an injury of this magnitude right now. And while they grapple with that, Morocco may be without West Ham United defender Naif Agord, who picked up a thigh injury in the first half against Spain despite being pushed into the closing stages of the second half. Bayern Munich's Naseer Mazraoui is still in defense, and there may be doubts about his injury after he came off as a substitute in the 82nd minute of the Spain match. With those three defensive players in doubt, Morocco's defensive play may suffer but the coach will be happy to have workaholic Sofiane Amrabat in midfield as well as Hakim Ziyech on the wing and the impressive Achraf Hakimi in defence. On the other hand, Portugal will be without Nuno Mendes in this match. He has been ruled out for the remainder of the World Cup due to a thigh injury and there is still a possibility Danilo Pereira could join him. Danilo missed the Switzerland match through injury and not much was reported on him prior to this match. Portugal scored two or more goals in three of their four matches in this competition. Portugal have won 17 of the 25 games they have played over time against African teams. Portugal has scored in all of its matches in this competition. Morocco failed to score in three of their last six matches, Morocco created only three scoring chances in their four World Cup matches.Morocco has been brilliant so far. They do everything they need to on defense and offense, without going overboard on either. They have shocked some big teams and will be aiming for the same against Portugal. They will aim to be the first African team to reach the semi-finals of the World Cup. However, injuries to senior outfielders may slow them down, and hinder this ambition. On the other hand, Portugal has a lot of wealth in attack and will look at Morocco's injury woes as an advantage. The North African team has been great