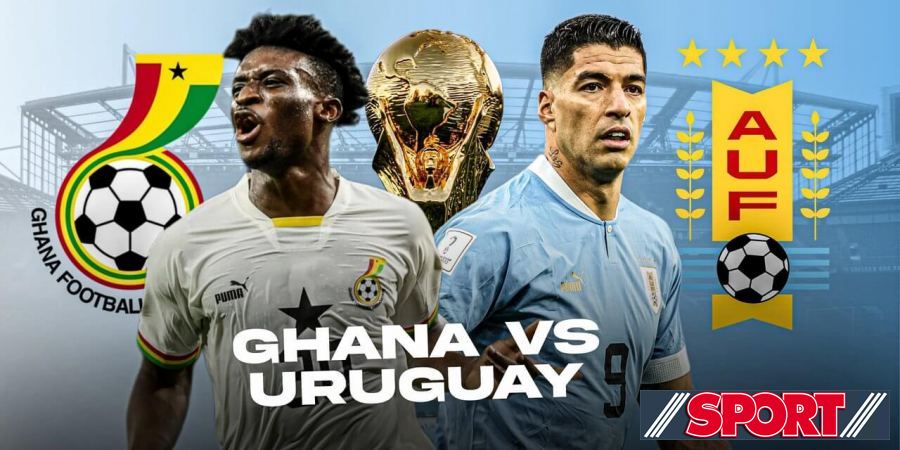 Match Today: Uruguay vs Ghana 02-12-2022 Qatar World Cup 2022
The final round of Group H matches will witness a long-awaited meeting between Uruguay and Ghana, as the two countries met in an important confrontation at the 2010 World Cup in South Africa.
This highly dangerous confrontation is scheduled to take place at Al Janoub Stadium on Friday, December 2nd. Ghana ranks second in the group with three points and Uruguay ranks last with one point. A win would guarantee Ghana a place in the knockout stage of this competition, but they could still qualify with a draw if South Korea dropped points against Portugal or won by less than two goals. As for Uruguay, they have no choice but to achieve victory in this match. A win for La Celeste with South Korea failing to win would see Uruguay finish in second place. Uruguay could also qualify if South Korea win their match against Portugal, although they will have to do so by a larger margin than the Koreans win, thus seeing them through goal difference or total goals scored. If the goals scored are equal between the two sides.
Uruguay against Ghana
Ghana goes into this match immediately after its third victory in five matches. They survived a scare in the second half to beat South Korea 3-2 in their second Group H match. It was the third time in five matches that they had conceded two or more goals and had a clean sheet in their last five matches but they did it. Scored two or more goals in each of the last three matches. Ghana have failed to score in one of their last five matches, and after winning the first of their last six matches at the World Cup, they will be ready for this fixture, with a place in the next round just 90 minutes away. In this tournament, Ghana conceded five goals in two matches and all of these goals came in the second half. As they enter this game, Ghana will be pushed to exact revenge on the team that eliminated them so painfully from the quarter-finals of the 2010 competition in controversial style. However, Ghana may lack the competitive edge in this fixture, having won just 3 of the last 10 matches in the competition.
Ghana vs Uruguay
Uruguay is still looking for its first victory in this competition. Their progression from the group depends entirely on their victory here. They have two wins and two losses in their last five matches, the latest being a 2-0 defeat against Portugal, which came after a goalless draw with South Korea. Uruguay has three clean sheets in five matches but has failed to score in four of their last six matches in 11 matches, Uruguay has lost only twice and recorded eight clean sheets while conceding more than one goal in only one of the 11 matches. But their attack fails seriously in this competition, Uruguay are goalless in the third group match and in their last three World Cup matches, they fail to score. Uruguay entered this match with four wins from their last 10 competitive matches. Uruguay lost only twice and scored eight clean sheets, while conceding more than one goal in only one out of 11 matches. Uruguay netted both goals in this tournament in the second half. Ghana have conceded five second-half goals in their first two matches here. Ghana have failed to score in one of their last five matches. Both teams have scored in four of their last five competitive matches in Ghana. Uruguay has only four clean sheets in 10 competitive matches. Ghana has only three clean sheets in its last 10 competitive matches.