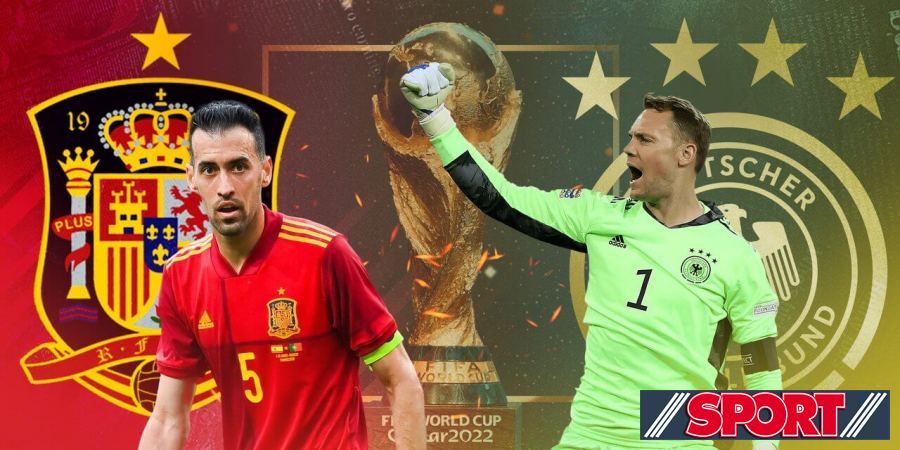 Match Today: Germany vs Spain today 27-11-2022 Qatar World Cup 2022
Spain and Germany face off in a second-round Group E match in what can be said to be a selection of the World Cup group stage matches.
And Spain achieved another victory over Costa Rica 7-0, which is its largest victory in the tournament and also the first time since 2006 that the team won its opening match. Germany were stunned 2-1 by Japan and now face a possible exit if they lose this match. The match takes place at Al Bayt Stadium at 7pm UK time. There were fears coming from this tournament that Spain would struggle to score goals, but they put those doubts to rest well and truly. Their seven goals in the last match now means they have scored ten goals in their last two matches.
Despite Spain having one of the smallest teams in the World Cup, they have shown in the qualifiers and the Nations League that there is great talent in the squad but the players need care and manager Luis Enrique is definitely doing a great job. Spain comfortably topped their World Cup qualifying group and then proceeded to win their Nations League group. They have lost just one of their last 12 matches in all competitions with nine wins and two draws.
Germany against Spain
While Germany is under pressure because it needs to win to keep its fate in its own hands. They have now lost their openers in both 2018 and 2022, having lost the opener only once before in their previous 18 matches. Germany were brilliant in the qualifying competition, winning nine of their ten games with an astounding 36-4 aggregate goals tally. The cracks in the German shield began to show in the Nations League as they won just one of their six matches, scoring just 11 goals despite their poor form of late, They have lost only twice in their last 15 games.
The Spanish team had a bout of flu before their outing against Costa Rica. Alvaro Morata and Dani Carvajal missed training due to illness, but the duo reached the bench, as Morata scored Spain's seventh goal in the afternoon as a substitute.
Luis Enrique made all five changes assigned to him with over 20 minutes left to play, and half of the starting squad rested perhaps with Sunday in mind. Leipzig star Olmo was one of the players to light up the game, showing great control by chipping away at Oscar Duarte and clipping the opener on 11 minutes. Barcelona's trio of Pedri, Javi and Sergio Busquets are expected to lead the midfield. The Germans' desperation will be the driving force as they know their best chance of advancing to the knockout stage is to win this match. Spain only needs the three points in this match to secure qualification.
Germany will be hoping Leroy Sane will be fit as he lacked a goalscoring advantage in their first game despite having the bulk of possession. They have a lot of experience in their ranks and have always performed well in World Cups
Spain against Germany
Spain have only won their first two matches in the World Cup three times previously: in 1950, 2002 and 2006. They have faced Germany four times previously in the World Cup and have won just one match. Since the start of the World Cup qualifiers, Germany have only suffered defeat twice.
They have never lost consecutive group matches at a single World Cup. Germany's defeat against Japan was their first away loss in ten matches. Leroy Sane was the only member of Hansi Flick's squad not to sit on the bench against Japan while nursing a knee injury. The Bayern Munich man has been restricted to individual training and his participation this weekend is mired in uncertainty, but Flick must be open to taking risks in this match. Thomas Müller made his first appearance since October 26 against Japan, after being sidelined with a thigh injury, but such is the impact of the 33-year-old that he may also get a nod against Spain.
fellow Bayern Munich youngster Djamel Musiala has shown real spark and should keep his place in attacking midfield, while in-form Werder Bremen player Niklas Volkrug could replace Kai Havertz up front.