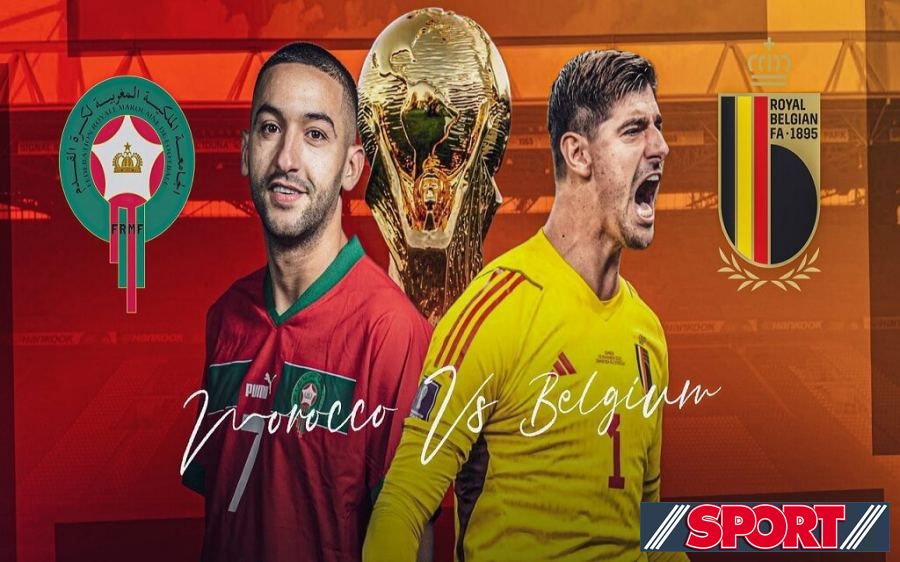 Match Today: Belgium vs Morocco 27-11-2022 Qatar World Cup 2022
Belgium continues its quest to win a major title in the 2022 World Cup, looking for its second consecutive victory in Group F.
The African team will face Morocco in the match that will be held at Al Thumama Stadium in Doha. Qatar, on Sunday 27 November. The first round of the tournament saw Belgium top of this group with a 1-0 win over Canada while Morocco finished second after drawing 2018 World Cup finalists Croatia 0-0 in their opening match.
As for Morocco, they have a lot of positives from their last match as they prepare to face Belgium for the fourth time in their history. This will be the second time the two nations have met in a World Cup tournament.
In the first in 1994 Belgium won 1-0, and the two subsequent matches were friendly matches, which Belgium won 4-0 in 1998 and Morocco 4-1 in 2008. In this match, Morocco achieved a remarkable series in defense, after keeping five clean sheets. consecutive times. They are unbeaten in their last six matches, have won four and scored two or more goals in four.
Competitively, Morocco is unbeaten in its last five matches, losing just once in 10 matches, has six wins and four clean sheets and has scored two or more goals in six out of 10 matches.
Belgium vs Morocco
Belgium managed a narrow win against Canada, which was a reward for taking the few chances that came their way in a match they largely dominated.
It was their first win in their last three matches and they will be hoping to improve on it as the tournament progresses but the Belgians have shown glaring deficiencies in defence. They have managed just three clean sheets in their last 10 matches in all competitions. In five of the last eight matches both teams have scored goals and in a competitive contest both teams have only managed two clean sheets in 10 matches.
Belgium's winning percentage has also declined in recent months; They've come into this match with five wins in their last 10 matches. However, they have failed to score in just one of their last 10 competitive matches, which is to be expected with the wide range of attacking talent in the squad. The Belgians have done well in the World Cup; The win over Canada was their eighth in 10 matches and also their eighth consecutive group stage win at a World Cup.
Belgium have only failed to score in two of their last 10 World Cup matches - against Argentina and France, but one could feel that much improvement was needed after Canada's victory. In that match, Belgium were restricted to just nine attempts, with just three on goal, most of which came as Canada opened the game chasing the match.
Morocco vs Belgium
Belgium has kept 2 clean sheets in 10 competitive matches. Morocco kept four clean sheets in 10 official matches. Both teams have scored in five of Belgium's last eight matches.
Belgium have only failed to score once in 10 competitive matches. Morocco has scored in seven of their last 10 matches. The current group of Belgium players with the best time in the past five years is called the golden generation. Indeed, they have a group of talented players in this team but there are fears that their time is running out and a new team must be built.
It is difficult to argue against this assumption. Even with their highly talented team, they struggled against a well-organised Canada. After being named man of the match, Kevin De Bruyne admitted he didn't play well. It was an honest admission and they may face a similar reception from Morocco. Romelu Lukaku missed the opener and may still be sitting out this one but in Michy Batshuayi they have a forward lead though at times unreliable.
Batshuayi has scored three goals in Belgium's last five games and they will be counting on his confidence this time around. At the back Thibaut Courtois is still a cog. He saved a penalty against Canada and backed it up with more stops during the opener and we expect him to shine against Morocco as well. As for Morocco, its game on the wing will be greatly affected by the absence of Bayern Munich defender Noussair Mazraoui, who was injured in the first match.
In Achraf Hakimi, however, they will still be the danger on the opposite flank, but they will need Hakim Ziyech to do a much better job than he did in the opener.